This is an archived article and the information in the article may be outdated. Please look at the time stamp on the story to see when it was last updated.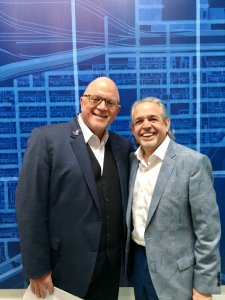 CHICAGO - The award-winning musical Hamilton has become a cultural phenomenon, but looking beyond the stage and its 11 Tony Awards, the production is looking to make an impact in high-school classrooms as well.
Luis A. Miranda Jr., father of Hamilton star Lin Manuel Miranda, stopped by WGN Morning News to discuss the Hamilton Education Program, an educational initiative that has been running since 2016.
The program was started by Hamilton producer Jeffrey Seller, along with Lin Manuel Miranda, the Rockefeller Foundation, NYC Department of Education, and the Gilder Lehrman Institute, with the goal of helping high school students learn more about the history of our nation, as well as having an artistic and creative avenue to produce their own performances.
" Every time I go to one of the Hamilton Education Initiative programs I see my son; my son on stage when he started in elementary, intermediate, and high school. These kids know that they also have a future in this nation," Miranda said.
The Hamilton Educational Program has already helped more than 20,000 Chicago Public School students both experience and take part in the musical.
For more information regarding the Hamilton Education Program you can visit the Gilder Lehrman Institute of American History website here.