This is an archived article and the information in the article may be outdated. Please look at the time stamp on the story to see when it was last updated.
On tonight's WGN News at Five, I'm taking a tour of the Palmer House Hilton's new hotel museum with Ken Price, the hotel's director of public relations and all around Palmer House expert.
I've known Ken for years, and every time I've visited the hotel he would show me his latest historical find – a photo, newspaper clipping, some fine china, ANYTHING Palmer House. They would be stacked up in his office, which was a regular stop on his "History is Hott" tour.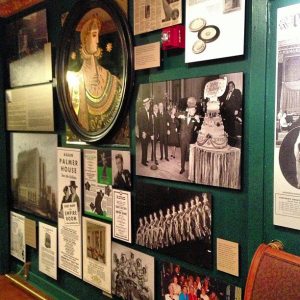 But after years of planning, the Palmer House has finally built a dedicated museum, a small section of the mezzanine level dedicated to the hotel's history. Ken gave us a quick tour of the space today, which will officially be unveiled next Thursday, along with some paintings they're having restored. My video feature will be posted here after it airs. If you'd like to take the "History Is Hott" tour, you can find more information below…
Palmer House Hilton Hotel "History Is Hott" Tour | 17 E. Monroe | $60, including lunch at Lockwood | Tuesdays through Saturdays, 24 hour reservation notice required | Call Lockwood to reserve a tour at 312-917-3404