This is an archived article and the information in the article may be outdated. Please look at the time stamp on the story to see when it was last updated.
Online Education Trends
Blended learning:
It is unrealistic to expect physical classrooms to disappear in the near future, especially in K-12. However, many teachers are now using a blended learning model to maximize their time and teaching effectiveness. By combining in-classroom learning with virtual learning tools, both students and teachers benefit.
Real-time assistance:
As the tutoring market continues to grow in the United States, students are beginning to demand real-time assistance. Online learners in addition to traditional students need help to fully grasp lessons in virtual classrooms. Now, with access to the web, students can seek out skilled tutors from across the globe to provide assistance and clarification on lessons.
Gamification:
Students are growing up in an increasingly interconnected world. Over 97% of kids ages 12-17 play video games each year. Many institutions are beginning to incorporate gaming into everything from college completion to test prep. Introducing this new way of learning helps students to engage in the learning process and better retain knowledge for tests and overall retention.
Social Media: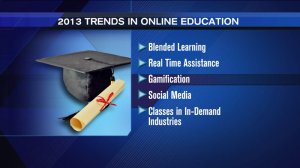 Almost 98% of 18-24 year olds use a social media network. Because of its widespread popularity, social media is now being used to facilitate Learning Management Systems and social learning tools. Social media is also being used to create study groups and forums online.
Classes in In-Demand Industries:
Online colleges and universities are beginning to offer more classes in in-demand career fields. More online schools are offering programs in Business Administration, Nursing, and other top growth fields to accommodate continuing education students.
For more information: