This is an archived article and the information in the article may be outdated. Please look at the time stamp on the story to see when it was last updated.
Sponsored by ComEd
Would you ride in a race car made out of a refrigerator? The young girls participating in the ComEd Icebox Derby are about to— and they're the ones using their smarts to transform junky, old fridges into an out-of-the-box vehicle.
The Icebox Derby program empowers and encourages young girls from Chicagoland ages 13-18 to learn about STEM fields (science, technology, engineering and mathematics) through hands-on exploration in a fun, innovative way. In honor of its fifth year, here are five things to know about the Icebox Derby: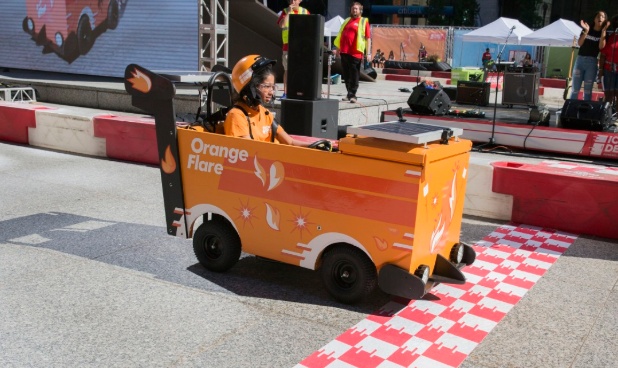 1. The girls have already won scholarships
To get on an Icebox Derby team, individuals entered a scholarship contest where they shared their dreams for the future and how they'd change their communities through working in STEM. Thirty finalists were awarded a $1,500 scholarship and a coveted spot on an Icebox Derby team.
2. Participants literally turn recycled refrigerators into race cars
Harnessing the power of renewable energy and technology, six teams of five take an old, clunky fridge and make an electric or solar-powered race car out of it over the course of four build sessions. At the end of the program, teams put their cars to the test during a race at Daley Plaza.
3. It gives girls empowering hands-on experience in STEM
The Icebox Derby shows girls how they can participate and fit into otherwise male-dominated STEM fields. It gives them a chance to explore the fields themselves, and physically work to create something with their own hands (and brains!). This valuable opportunity illuminates how the STEM stars can make a difference in the future while empowering them to follow their interests or foster them.
4. It takes place over four knowledge-filled weeks
During each build session, participants utilize a different part of STEM to create a unique part of their vehicle. The girls also go on educational field trips spanning robotics to supplier visits, and meet inspiring local science women. Each team also gets a female ComEd engineer as a mentor to guide them through their journey from beginning to end— and to envision where their potential can take them in the future.
5. The Icebox Derby culminates in race day
The main event, when the girls put all their hard work and knowledge to the test, takes place at Daley Plaza on Saturday, August 4 at 12 p.m. After a series of heats and challenges, the winning team will be crowned— and you can watch it all take place on Facebook Live or in person. You can also follow along on social media with the hashtags #ComEdIceBoxDerby and #IceboxDerby.
—
ComEd is committed to investing in the country's future generation of innovators and bridging the gender gap in STEM fields. Learn more here.