GlobeNewswire
Foremost Lithium Finalizes Acquisition of Lac Simard South Property in Quebec
Property Includes 12 Identified Pegmatites Strategically Located to Potentially Support Direct Shipping Ore (DSO) Strategy
News provided by
Foremost Lithium Resource & Technology Ltd.
Sep 19, 2023, 8:31 AM ET
VANCOUVER, British Columbia, Sept. 19, 2023 (GLOBE NEWSWIRE) -- Foremost Lithium Resource & Technology Ltd. (NASDAQ: FMST) (CSE: FAT) ("Foremost Lithium", "Foremost" or the "Company"), a North American hard-rock lithium exploration company, today announced that it has made the second and final cash payment in the amount of $17,500 plus GST for the acquisition of Lac Simard South Property (the "Property"), previously announced on March 20, 2023.

Lac Simard South land package consists of 80 mineral claims covering 11,482 acres/4,647 hectares.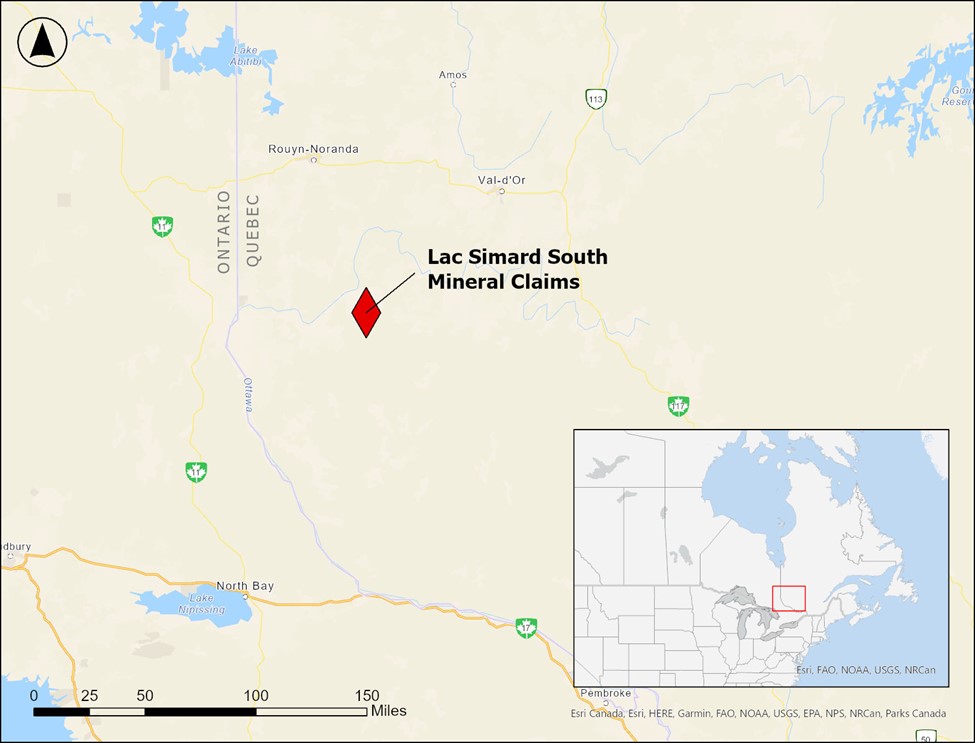 Figure 1. Property Location Map of Lac Simard South in Quebec, Canada
https://www.globenewswire.com/NewsRoom/AttachmentNg/25d8170b-d855-4749-992d-8c47a1dd9639
"Acquiring the Lac Simard South property aligns with our strategy to be in proximity of a lithium mine and concentrator," said Jason Barnard, Chief Executive Officer and President of Foremost Lithium. "Producing and delivering Direct Shipping Ore (DSO) will enable us to generate net cash and partner with downstream refineries to supply their raw lithium ore. We intend to optimize the advantages the property offers and look forward to beginning our exploration efforts."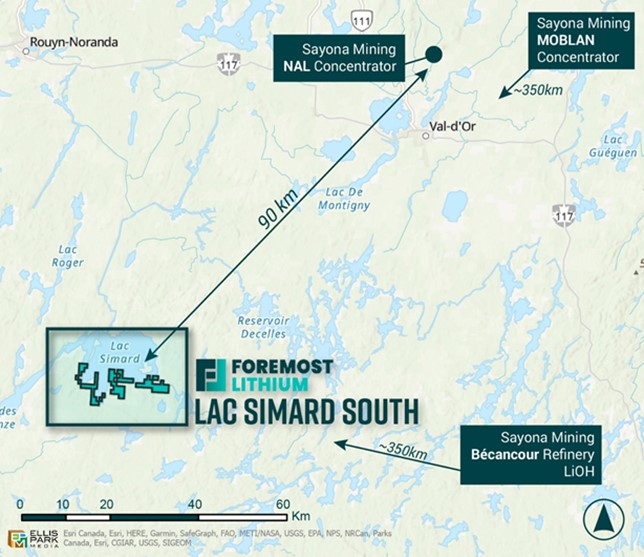 Figure 2. Lac Simard South Property Claims with surrounding concentrators and refineries. Total – 11,482 acres/4,647 hectares.
https://www.globenewswire.com/NewsRoom/AttachmentNg/2750c18e-7c4f-499b-8df2-d7fedb6f284c
Lac Simard South Property is located approximately 90km southwest from the NAL Lithium Processing Plant (a Piedmont/Sayona Joint Venture) ("NAL"). On September 06, 2023, NAL announced the receipt of the first cash proceeds following the inaugural shipment of lithium spodumene concentrate to the international lithium market. The first shipment consisted of approximately 20,500 wmt (19,200 dry metric tonnes or dmt) of spodumene concentrate and was sold via a major trading company.¹
Lac Simard South Property is located in a well-developed mining region with readily available support facilities and services and is situated 80km southwest of Val-D'or, an established logistics hub for mining services. Val-d'Or is a city with a population of 30,000 and is well-known for its mining history, with an experienced mining workforce. The Property is easily accessible year-round by way of well-maintained roads, with little overburden connecting and within a few km from major highways. The province of Quebec is a major producer of electricity and one of the largest hydropower generators in the world, and a hydroelectric power plant is situated right within the property claim block, allowing access to grid power and low-cost hydroelectricity.
The Company intends to begin a future work program to test the identified pegmatites associated in Quebec's active lithium, mining, and refining region. The exploration program's first steps are expected to include ground truthing to confirm and describe the nature of the identified pegmatites as well as prospecting selected areas to find lithium-bearing pegmatites. Uses of indirect techniques such as drone-assisted magnetic surveys, in addition to surficial geochemical surveys including MMI, will be contemplated in areas with scarce outcrops to help delineate new targets prospective for lithium-bearing pegmatites. Foremost will strategize further plans upon the return of initial assay results.
About Foremost Lithium
Foremost Lithium (NASDAQ: FMST) (CSE: FAT) is a hard-rock lithium exploration company focused on empowering the North American clean energy economy. Foremost's strategically located lithium properties extend over 43,000 acres in Snow Lake, Manitoba, and hosts a property in a known active lithium camp situated on over 11,400 acres in Quebec called Lac Simard South.
Foremost's four flagship Lithium Lane Projects as well as its Lac Simard South project are located at the tip of the NAFTA superhighway to capitalize on the world's growing EV appetite, strongly positioning the Company to become a premier supplier of North America's lithium feedstock. As the world transitions towards decarbonization, the Company's objective is the extraction of lithium oxide (Li₂O), and to subsequently play a role in the production of high-quality lithium hydroxide (LiOH), to help power lithium-based batteries, critical in developing a clean-energy economy. Foremost Lithium also has the Winston Gold/Silver Property in New Mexico USA. Learn More at www.foremostlithium.com.
Follow us or contact us on social media:
Twitter: @foremostlithium
Linkedin: https://www.linkedin.com/company/foremost-lithium-resource-technology/
Facebook: https://www.facebook.com/ForemostLithium
Forward-Looking Statements
This news release contains "forward-looking statements" and "forward-looking information" (as defined under applicable securities laws), based on management's best estimates, assumptions, and current expectations. Such statements include but are not limited to, statements with respect to the plans for future exploration and development of the Company's properties and the acquisition of additional exploration projects. Generally, these forward-looking statements can be identified by the use of forward-looking terminology such as "expects", "expected", "budgeted", "forecasts", "anticipates" "plans", "anticipates", "believes", "intends", "estimates", "projects", "aims", "potential", "goal", "objective", "prospective", and similar expressions, or that events or conditions "will", "would", "may", "can", "could" or "should" occur. These statements should not be read as guarantees of future performance or results. Such statements involve known and unknown risks, uncertainties and other factors that may cause actual results, performance or achievements to be materially different from those expressed or implied by such statements, including but not limited to: risks related to the receipt of all necessary regulatory and third party approvals for the proposed operations of the Company's business and exploration activities, risks related to the Company's exploration properties; risks related to international operations; risks related to general economic conditions, actual results of current exploration activities, unanticipated reclamation expenses; changes in project parameters as plans continue to be refined; fluctuations in prices of commodities including lithium and gold; fluctuations in foreign currency exchange rates, increases in market prices of mining consumables, possible variations in reserves; failure of plant, equipment or processes to operate as anticipated; accidents, labour disputes, title disputes, claims and limitations on insurance coverage and other risks of the mining industry; delays in the completion of exploration, development or construction activities, changes in national and local government regulation of mining operations, tax rules and regulations, and political and economic developments in jurisdictions in which the Company operates. . Although the Company has attempted to identify important factors that could cause actual results to differ materially from those contained in forward-looking statements, there may be other factors that cause results not to be as anticipated, estimated or intended. There can be no assurance that such statements will prove to be accurate, as actual results and future events could differ materially from those anticipated in such statements. The forward-looking statements and forward-looking information are made as of the date hereof and are qualified in their entirety by this cautionary statement. The Company disclaims any obligation to revise or update any such factors or to publicly announce the result of any revisions to any forward-looking statements or forward-looking information contained herein to reflect future results, events, or developments, except as require by law. Accordingly, readers should not place undue reliance on forward-looking statements and information. Please refer to the Company's most recent filings under its profile at www.sedar.com for further information respecting the risks affecting the Company and its business.
The Canadian Securities Exchange has neither approved nor disapproved the contents of this news release and accepts no responsibility for the adequacy or accuracy hereof.
Company
Jason Barnard, President and CEO
+1 (604) 330-8067
info@foremostlithium.com
Investor Relations
Michael Kim or Brooks Hamilton
MZ North America
+1 (737) 289-0835
FMST@mzgroup.us
_______________________
¹ https://wcsecure.weblink.com.au/pdf/SYA/02708461.pdf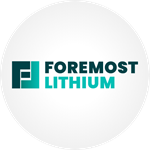 NOTE: This content is not written by or endorsed by "WGNTV", its advertisers, or Nexstar Media Inc.
For inquiries or corrections to Press Releases, please reach out to GlobeNewswire.