EIN Presswire | Newsmatics
Moves Power Women Annual Gala & Awards Dinner November 18th, 2023
News provided by
EIN Presswire
Nov 18, 2023, 9:45 AM ET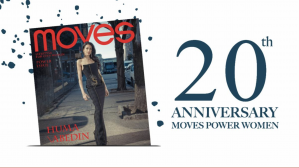 New York Moves Magazine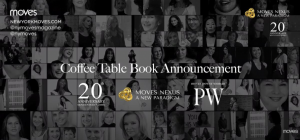 Moves Power Women Book Announcement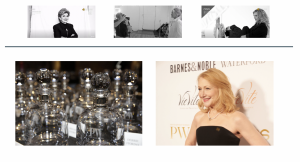 Women of Moves Magazine Covers and Gala Photos
New York Moves Magazine hosts its 20th annual Moves Power Women Gala and Dinner celebrating 20 years of Power Women at Mandarin Oriental NYC.
As we continue our commitment to advancing gender equality and women's empowerment, we look forward to another 20 years of progress towards a fairer and more equitable world."
— Moonah Ellison, Publisher
NEW YORK, NEW YORK, USA, November 18, 2023 /
EINPresswire.com
/ -- --- Host:
Huma Abedin, Chief of Staff to Hillary Rodham Clinton, Best Selling Author & MSNBC contrib.
--- Emcee:
Alisyn Camerota, American broadcast journalist, political commentator CNN.
--- Red Carpet Guests:
Betsey Johnson: 2011 Honoree Fashion Designer, Cultural Icon. Pat Benatar: 2015 Honoree Grammy Award Winner Grammy Award Winner, Singer-Songwriter, Rock Icon. Katheryn Winnick: 2020 Honoree Actor, Co-Founder, The Winnick Foundation.Patricia Clarkson: 2018 Honoree Oscar-Nominated Actor Mira Sorvino: 2007 Honoree Academy Award-Winning Actor & Human Rights Advocate, Gloria Allred: 2011 Honoree Attorney & Partner, Allred, Maroko & Goldberg, Saffron Burrows: 2014 Honoree Actor, writer, Civil Rights Campaigner, Amy Redford: 2008 Honoree Director, Producer, Actor, Felicity Huffman: 2017 Honoree Academy Award Nominated Actor, SE Cupp: 2011 Honoree CNN Host and Political Commentator,Kacy Duke: 2005 Honoree Celebrity Fitness Trainer, Sandra Lee: 2014 Honoree Emmy Award-Winning Advocate, Activist, Philanthropist and Home Life Expert, Lili Estefan: 2016 Honoree Talk Show Host, Univision, Tamsen Fadal: 2015 Honoree Journalist, Podcaster, Author, Maya Wiley: 2009 Honoree President and CEO, The Leadership Conference on Civil and Human Rights Tamara Tunie: 2018 Honoree Film & Theater Actor, Activist, Zainab Salbi: 2011 Honoree Women's Rights Activist, Co-Founder, Daughters for Earth Randi Weingarten: 2010 Honoree President, American Federation of Teachers, Christine Duffy: 2016 Honoree President, Carnival Cruise Line, Maria Elena Salinas: 2012 Honoree American Broadcast Journalist, News Anchor & Author, Caryl Stern: 2020 Honoree Chief Impact Officer, LionTree, Bonnie Bernstein: 2007 Honoree Founder & CEO, Walk Swiftly productions, Robin Dolch: 2013 Honoree Founder and President, Hundred Stories PRHazel Sanchez: 2022 Honoree Anchor, PIX11 Morning News, Catherine Hernandez-Blades: 2018 Honoree Senior Vice President, Marketing and Communications, SAIC, Laura Walker: 2006 Honoree President, Bennington College, Mindy Grossman: 2020 Honoree Partner, The Consello Group, Dr. Suzan Johnson Cook: 2013 Honoree President & CEO, Charisma Speakers Saranne Rothberg: 2006 Honoree CEO, ComedyCures Foundation, Katie O'Brian: 2014 Honoree President, E.W. Scripps Company Amy Kramer: 2023 Honoree Senior Vice President Ostroff Associates Teresa Rodriguez: 2013 Honoree Journalist & Anchor Univision, Heidi Waldorf: 2006 Honoree President, Waldorf Dermatology Aesthetics Paige Hemmis: 2008 Honoree TV Host, Lifestyle Design Expert,Taryn Rose: 2005 Honoree Shoe Designer, Enrico Cuini,Patricia Velasquez: 2008 Honoree Founder, The Wayuu Taya Foundation, Brooke Baldwin: 2015 Honoree Journalist, TV Host & Author, Silda Wall Spitzer: 2009 Honoree CEO, Silda's Jam & New York States of Mind LLC, Artist, Sculptor, Event Producer, Robin Wilson: 2007 Honoree Chairman & CEO, A Blue Egg CorporationLaura Heltebran: 2022 Honoree Chief Legal Officer, Wheels Up, Dr. Judith A Aberg: 2008 Honoree Dean of System Operations for Clinical Sciences; Chief, Division of Infectious Diseases; George Baehr Professor of Medicine at Icahn School of Medicine at Mount Sinai, Devika Bulchandani: 2020 Honoree Global CEO, Ogilvy, Alyse Nelson: 2013 Honoree President & CEO, Vital Voices Global Partnership, Kim Davis: 2010 Honoree Senior Executive Vice President, National Hockey League, Anna Griffin: 2018 Honoree Chief Marketing Officer, Commvault Marci Zaroff: 2008 Honoree Founder & President, ECOfashion Corp, Mary Kay Vrba: 2019 Honoree Former President & CEO, Dutchess Tourism Grace Hightower: 2011 Honoree CEO, Coffee of Grace, Pamela Prince-Eason: President and CEO of the Women's Business Enterprise National Council (WBENC), Mike Bundlie: CEO of
Poets Road
.
--- Photographers:
Randall Slavin, Spencer Heyfron, James Weber, William Ferchichi
--- Presenters:
Bonnie Bernstein, Maria Elena Salinas, Theresa Rodriguez, Hazel Sanchez, Paige Hemmis,
SE Cupp, Alexis Glick, Laurie Segal, Maya Wiley, Caryl Stern, Mindi Grossman.
--- Entertainment:
Comedian Karen Morgan, poet Aija Mayrock, international concert pianist Elaine Kwon, opera star Anya Bulchandani, singer-songwriter Alyson Michal, with special guest -
First Day of School
: Bradley Bundlie & Bowie Bundlie
2023 Power Women Honorees Include:
Janey Whiteside:Partner & CEO, Consello Growth & Business Development
Janet Foutty...Former Chair & Consulting CEO Deloitte US

Jessica Jackson...COO and Chief Advocacy Officer, The Reform Alliance
Lola West...Co-founder, Chairwoman, Chief Culture Officer, Westfuller
Julie Brown...Chief Financial Officer, GSK

Anne Del Castillo...Senior Policy Advisor, NYC Dept of Cultural Affairs

Jennifer Gasser...SVP, Partner Brands, World Travel Holdings

Amy Gilliland...President, General Dynamics Information Technology

Kaye Kramer...Founder, Step Up Women's Network

Cindy Zagieboylo...President & CEO, National MS Society

Martha Delehanty...Chief People Officer, Commvautl
Dr Jennifer Ashton...Chief Medical Correspondent, ABC News

Ana Oliveira...President & CEO, The New York Women's Foundation

Blandine De Navacelle...Head of Studio Lodha

Tiffanee Wade Henderson...G.C.. Chief Ethics & Compliance Officer & Litigation, Intl. Paper
Claudia Romo Edelman...Founder, We Are All Human Foundation

Dr Ana Fernandez-Sesma...Chair of Microbiology, Icahn School, Mount Sinai

Kristin McHugh...SVP Marketing & Creative, Verizon

Sarah Bishop...Vice President, Brand and Consumer Marketing, NFL

Heather Hartnett...General Partner & CEO, Human Ventures

Gen. Jacqueline Van Ovost...Commander US Transportation Command

Claudia Mazo...SVP Managing Director, International, Lands' End
--- ABOUT
NEW YORK MOVES MAGAZINE
Moves Magazine is a lifestyle magazine for women unafraid to ask hard questions.
Written with a progressive vibe, the magazine offers a provocative view of society and our world. We take on social, political, and global topics and show how women are shaping the world we live in today.
--- PARTNERS:
Carnival: the flagship brand of Carnival Corporation & plc, is the first cruise line to sail over 100 million guests. Proudly known as America's Cruise Line, Carnival revolutionized cruising as an affordable and fun travel option.
EFFY: Elegance meets innovation with EFFY. Renowned for exquisite jewelry craftsmanship, EFFY blends tradition with contemporary design, offering a touch of sophistication that resonates with discerning tastes.
William Lumber: Craftsmanship redefined, William Lumber brings a legacy of quality and durability to your spaces. From timeless furniture to modern creations, William Lumber elevates the art of living.
Westfuller: An independent, objective Investment Advisory and Wealth Management firm invested in a vibrant world for all people and our planet.
Travelers: Embark on a journey of possibilities with Travelers. Offering seamless travel solutions and experiences, Travelers ensures your adventures are memorable, hassle-free, and filled with discovery.
Poets Road Printing: Poets Road Printing is a leading fine art and special edition publication house based in Los Angeles founded by artist Mike Bundlie.
Moonah Ellison
New York Moves Magazine
+1 646-489-1633
email us here
NOTE: This content is not written by or endorsed by "WGNTV", its advertisers, or Nexstar Media Inc.
For inquiries or corrections to Press Releases, please reach out to EIN Presswire.