EIN Presswire | Newsmatics
Helping Schools Reduce Vaping with Simple Vape Detectors For Bathrooms and Restrooms that Detect Vape Smoke
News provided by
EIN Presswire
Feb 20, 2023, 2:13 AM ET
Vape Detector for Schools and Bathrooms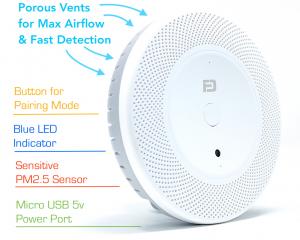 Vape Detector Operation and Features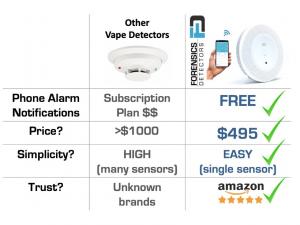 Vape Detector Comparison Chart
With the introduction of affordable vape detectors, no vape enforcement becomes manageable with continuous and real-time vape detection monitoring and alarming.
We are keeping the Vape Detector for Schools as simple and easy to use as possible so school administrators are not burdened, without compromising on detection speed and reliability."
— Dr. Koz
RANCHO PALOS VERDES, CA, UNITED STATES, February 19, 2023 /EINPresswire.com/ -- The use of vaping products has gained traction among young individuals, particularly high school and college students. In response, several school districts have enacted measures to limit vaping on campus. Nevertheless, the implementation of such policies has become more challenging enforcing these policies has become increasingly difficult which has led to the launch of Vape Detectors.
Today, we announce the launch of three distinct vape detectors for schools, hotels, casinos, businesses, and parents. The first is a handheld unit, priced at $195, that can be used for point-and-sample measurements to confirm if vaping has occurred in an indoor space. The second is a modern and slim wall-mount unit, priced at $495, that can provide discreet and real-time monitoring and smartphone alarming, popular among schools and hotels. The third is an industrial wall-mount vape detector, priced at $895, that has cosmetic deterrent features and a super-sensitive laser sensor for industrial workplaces.
Vape detectors, which are highly sensitive particulate smoke detectors, utilize laser sensors and are 100 times more sensitive than regular smoke alarms. However, their effectiveness in detecting vape smoke may be impacted by various factors, including the proportional amount of vaping, ventilation, and fresh air exchange rate, and the volume of the area where the detector is installed, all of which can dilute the vape smoke.
Despite these limitations, vape detectors can serve as a useful tool for deterring students from vaping on school premises, as they are capable of detecting the presence of vaporized vape juice particulates and triggering an alarm. This can help dissuade students from vaping. Furthermore, vape detectors can assist school administrators in identifying areas where vaping is more prevalent, allowing them to take measures to reduce it in those locations. By collecting data on the frequency of vaping on school grounds, administrators can better understand the scale of the issue and develop more effective strategies to combat it. Vape Detector has surveyed school administrators and the feedback was consistently focused on reducing the cost burden, increasing reliability, reducing false positives, and improving the operation and ease of use of the vape detectors installed at the schools
A vape detector incorporates laser scattering sensor technology that allows the detection of vape juice particulates that are suspended in the air. These particles are emitted by vapes and other illicit inhaled products. Laser scattering is the most sensitive and reliable way to detect vaping. The new innovative products will allow school administrators to continuously monitor school restrooms, school bathrooms, sports facilities, toilet areas, and washrooms.
The Vape Detector for Schools by Forensics Detectors is a real-time continuously running vape detector that is mounted on a wall in bathrooms, restrooms, and indoor areas. These units detect extremely small amounts of vape smoke and report to the user's smartphone via alerts. The other is a handheld vape detector for spot checking, to confirm if somebody vaped in an indoor area.
Once installed, the vape detector is triggered by a programmable alarm that can be adjustable. It will send a notification to the administrator via the free phone app when the vape smoke exceeds the preset concentration level sensed by the vape detector. Vape detectors are becoming an integral part of school districts' comprehensive plans to combat the vaping epidemic.
The detectors are sensitive to a variety of toxins emitted by vaping, including vape juice smoke, THC vapor, CBD vapor, weed smoke, nicotine smoke, propylene glycol vapor, and glycerin vapor.
Sarah Kong
Forensics Detectors
+1 424-341-3886
email us here
Visit us on social media:
Facebook
Twitter
Instagram
YouTube
Vape Detector for Schools
NOTE: This content is not written by or endorsed by "WGNTV", its advertisers, or Nexstar Media Inc.
For inquiries or corrections to Press Releases, please reach out to EIN Presswire.