Cold front to push through the area today – strong t-storms to spread over northern Illinois/northwest Indiana
Showers and strong thunderstorms will spread over the Chicago area from the south and west today, as a cold front tracks east across Illinois. As the front approaches from the west this afternoon a strong to severe band of storms is expected to  develop along and just ahead of the frontal boundary, producing localized heavy downpours and potentially damaging winds along with vivid lightning. Our area has been included in a Marginal risk outlook for severe thunderstorms (darker-green-shaded area on the headlined map) and also a Marginal risk area of excessive flood-producing rainfall (green-shaded area on the map below).
The cold front will move through the Chicago area from west to east later this afternoon and early evening with southerly winds 15 to 25 miles per hour ahead of the front shifting to the west-northwest gusting 30 to 40 miles per hour behind the front. Temperatures today will warm well into the 70s, then fall rapidly once the front passes a given location – dropping into the 40s after midnight and upper 30s by Thursday morning.
Excessive Rainfall Outlook for Wednesday/Wednesday night…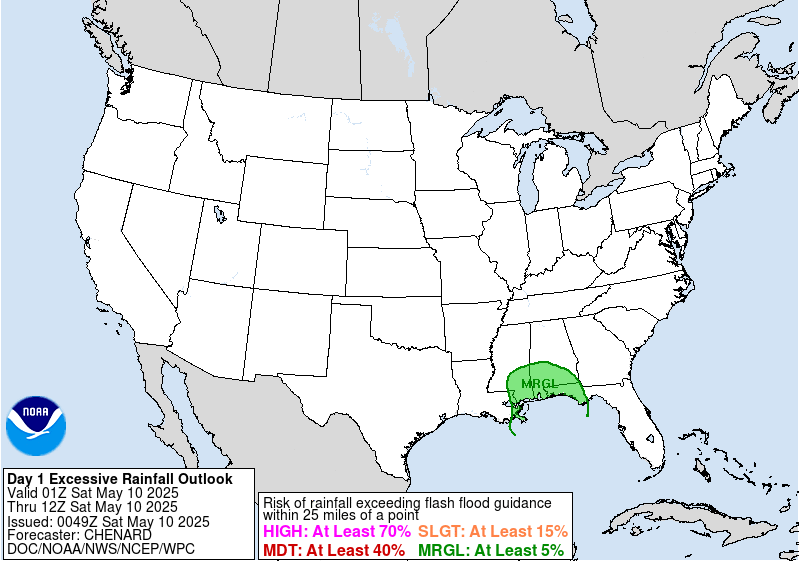 Latest Regional Weather Radar mosaic…