Monday evening storms – Heaviest rains in NW Indiana, but close-in Chicago area not far behind
Strong thunderstorms dumped torrential downpours at several locations across the Chicago area Monday evening with greatest recorded totals over 3-inches in northwest Indiana – topping the list was 3.53-inches near Gary in Lake County Indiana.  Not far behind was 3.05 inches at Portage and 3.02 inches at Valparaiso.
In Illinois – Just south of Downers Grove in DuPage County 2.61 inches was recorded with several 2+ inch rainfalls in Cook and Will County.  Following  is a list of greatest 24-hour rainfall totals, and below that are blown-up maps showing rainfall distribution in heaviest-hit areas of northeast Illinois and northwest Indiana.
Location/Rainfall(inches)
Northeast Illinois:
Downers Grove 0.9 miles south…..2.61
New Lenox…..2.50
Oak Forest…..2.36
Downers Grove 0.4 miles NE…..2.34
Plainfield…..2.29
Elwood…..2.27
Homewood….2.21
Northwest Indiana:
Gary 3.8 miles SE…..3.53
Portage…..3.05
Valparaiso 6.2 miles NW…..3.02
Gary 4.8 miles NE…..2.93
Valparaiso 5.5 miles SW…2.75
Hebron…2.70
Merrillville…2.67
Valparaiso 7.4 miles SW…2.61
Hobart…2,59
Porter…2.51
Chesterton…2.35
Norheast Illnois…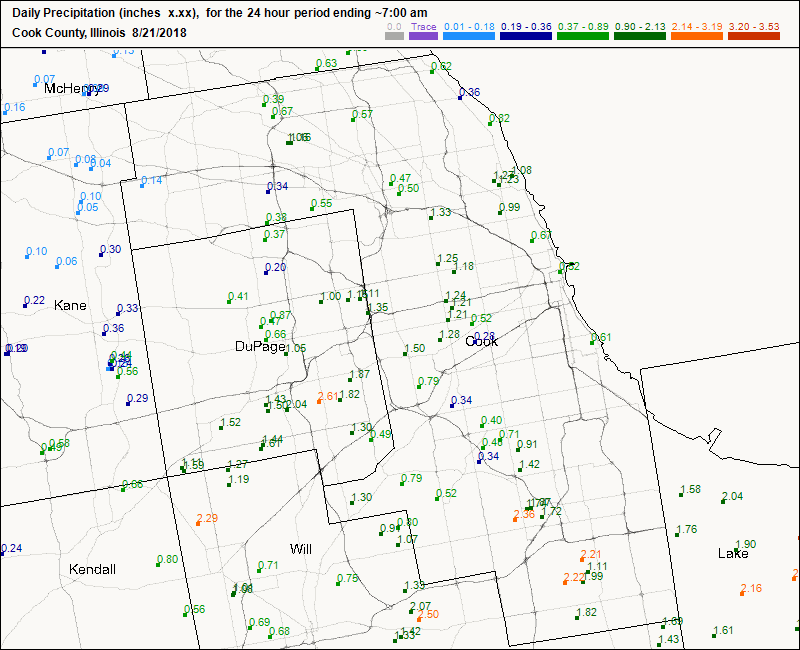 Northwest Indiana…