Updated 5:25PM CDT Thursday…
The Flash Flood watch remains in effect until 10AM CDT Friday. Lake and Porter Counties in Indiana have been added to the Watch.
Widespread rains of 1 to 3-inches have occurred with additional 1 to 3-inch rains possible tonight into Friday forenoon. Should the upper-end (2 to 3-inches) additional rainfall occur during the next 12 to 18 hours, many rivers and streams will rise into flood, in addition to those that are currently in flood or on their way out of banks tonight. So there will be careful monitoring of thunderstorm downpour movement/training of storms in the near term.
__________________________________________________________________________________________________________
CHICAGO — A Flash Flood Watch has been issued for a good portion of the Chicago area in the vicinity of and north of Interstate-80 (dark-green-shaded area on the headlined map), as periodic waves of heavy rain/embedded thunderstorms sweep over our area for the next 24 to 36 hours.
The remaining southern portion of our area may also have to be included in the Flash Flood Watch as conditions warrant.
The center of a slow-moving expansive low pressure system will move out of Iowa, tracking through southern/central Illinois into Indiana, eventually moving off to the northeast Saturday. Recent heavy rains have saturated soils with rivers and streams running close to bankfull – a few in minor flood at this time north of Interstate-80, and additional rainfall of 1 to 3-inches-plus could not only cause localized flash flooding, but more extensive area-wide flooding on streams and rivers already swollen due to recent rains.
The National Weather Prediction Center has the entire Chicago area into northwest Indiana in a Slight Risk for Excessive rainfall today through tonight into Friday morning (yellow-shaded area on the map below depicting a 10 to 20 percent chance of flood-producing rainfall within 25 miles of a given location). Also the National Storm Prediction Center has mostly the area south of Interstate-80 in a Marginal Risk for severe storms the next 24 hours (dark-green-shaded area on the second map below depicting a 5 percent chance of damaging winds within 25 miles of a given location).
Excessive rainfall outlook map…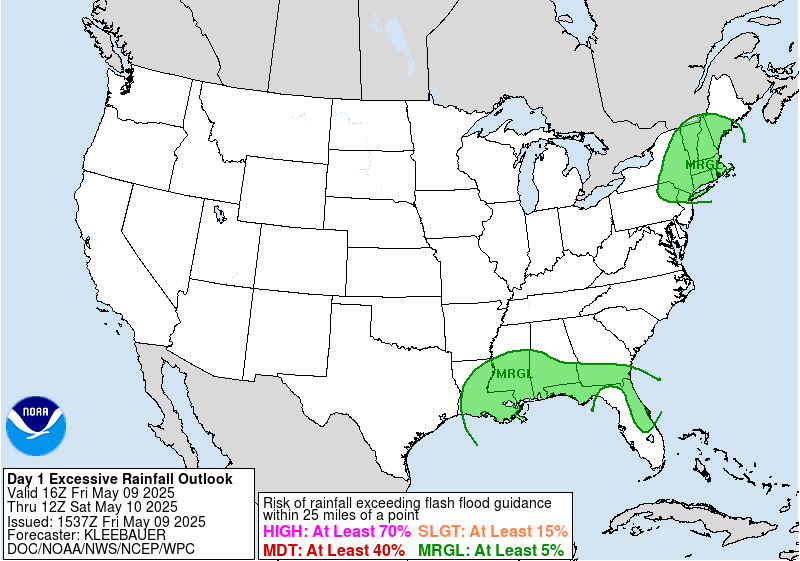 Severe weather outlook map…
Latest Regional Weather Radar Mosaic…