Entire Chicago area remains under risk of severe storms Friday and Saturday into Sunday
Updated 1PM CDT...
Reference the updated highlighted map which now has the entire Chicago area included in the tan-shaded Enhanced probability of severe storms indicating a 30% chance of severe storms within 25 miles of a given location. The main threat will be damaging winds and flood-producing downpours., but hail and even a tornado or two cannot be ruled out. Chances of severe weather increase with the afternoon heating and carry-over into the overnight hours.
_____________________________________________________________________________________________________
The National Storm Prediction Center has kept the entire Chicago area under a Slight Risk of severe storms Friday (headlined map) and Saturday (Yellow-shaded area depicting a 15% chance of severe storms within 25 miles of a given location) and a Marginal Risk Sunday (dark-green-shaded area depicting a 5% chance of severe storms within 25 miles of a given location).
The greatest immediate risk for severe storms with damaging winds, large hail and flood-producing downpours here appears to be late this afternoon/early evening when storms could form along a warm front advancing north through our area and then tonight into early Saturday when a Mesoscale Convective Complex of storms could form over Minnesota and Wisconsin and move southeast into northern Illinois and Chicago.
Flooding continues to be a threat, especially on the Des Plaines, Fox, Rock, Kishwaukee, Pecatonica and North Branch of the Chicago Rivers, so the anticipated complex of storms tonight and early Saturday is of immediate concern. Note the Excessive Rainfall map below centers the Moderate Risk area along the Illinois-Wisconsin border in the next 24 hours. A Flash Flood Watch generally along and north of Interstate-80 in northern Illinois remains in effect from 4PM this afternoon through Saturday morning.
The storm system will be finally pulling off to the east Sunday with widely scattered to isolated remnant showers and thunderstorms still a possibility.
Friday/Friday night Excessive Rainfall outlook map…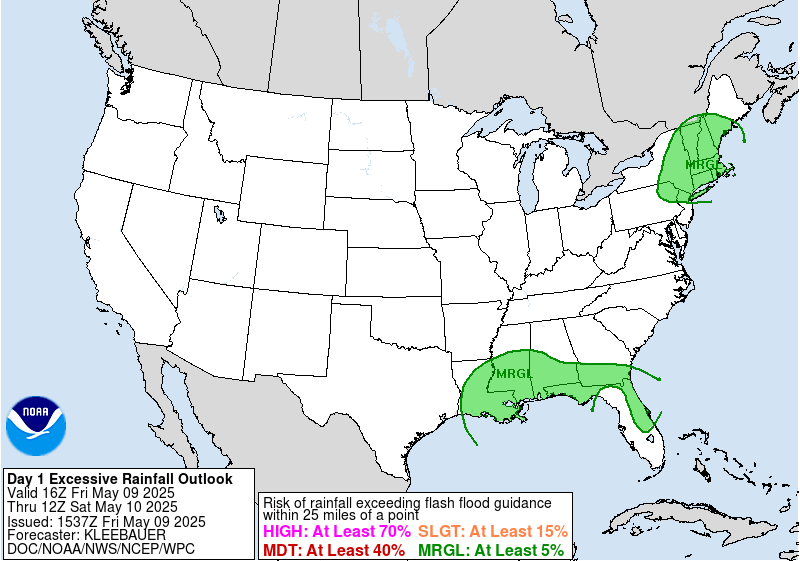 Saturday/Saturday night severe thunderstorm outlook map…
Sunday severe storm outlook map…