Renewed risk of severe thunderstorms across the Chicago area again this Thursday afternoon/evening into the overnight hours
The National Storm Prediction Center has most of the Chicago area under a Slight Risk (yellow-shaded area on the highlighted Thursday-Thursday night map) of severe thunderstorms this afternoon and tonight with a Marginal Risk of severe storms Friday (dark-green-shaded area on highlighted map and Friday severe weather outlook second map below). The primary risk will be for damaging winds and hail along with flood-producing downpours (note on the first map below much of the Chicago area is positioned in the Slight Risk of Excessive Rainfall for this afternoon/tonight).
By this afternoon the warm humid unstable air mass will be reestablished overhead with gusty southwest winds. During the peak-heating hours temperatures will warm into the middle 80s with dewpoints in the upper 60s. An upper-air disturbance is forecast to move through from the west late in the afternoon into the overnight hours triggering another round of strong to severe storms across northern Illinois.
Friday a cold front that has been poised to the northwest will sweep through during the afternoon preceded by strong to potentially severe storms, primarily during the late morning into the early/mid afternoon. Showers/thunderstorms will be ending from the west during the afternoon/early evening Friday as the cold front moves on east.
Thursday/Thursday night Excessive rainfall outlook map…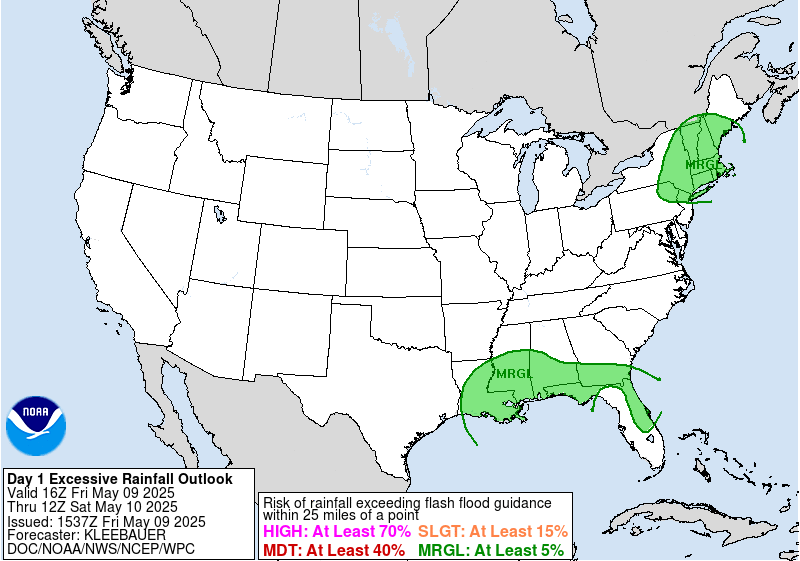 Friday severe weather outlook map…